ANUJAN EZHIKODE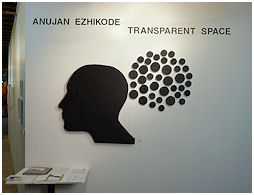 Transparent Space
Transparent Space was my exhibit, in 2010, at the BWAC Fall Show, "Lineage", where I was the featured artist. With paintings, works on paper, and an installation, I created an immersive environment where memory and time converged.
On canvas, I chose to use silhouette figures to evoke those distant memories, which constantly resurface to be confronted and re-imagined. For the "Bubble Series" I cut and pasted hand woven strips of printed paper to create grids. Inside these small windows are white bubbles which bring unbalance to the orderly space and stand for our tenuous, broken memories.
Clear strips, hanging from the ceiling evoked rain, in a frozen state. Viewing the show through this installation, you can imagine that fragile layer of memory and its constant flux in the space it occupies.